The XJ CHEROKEE (1984-1989)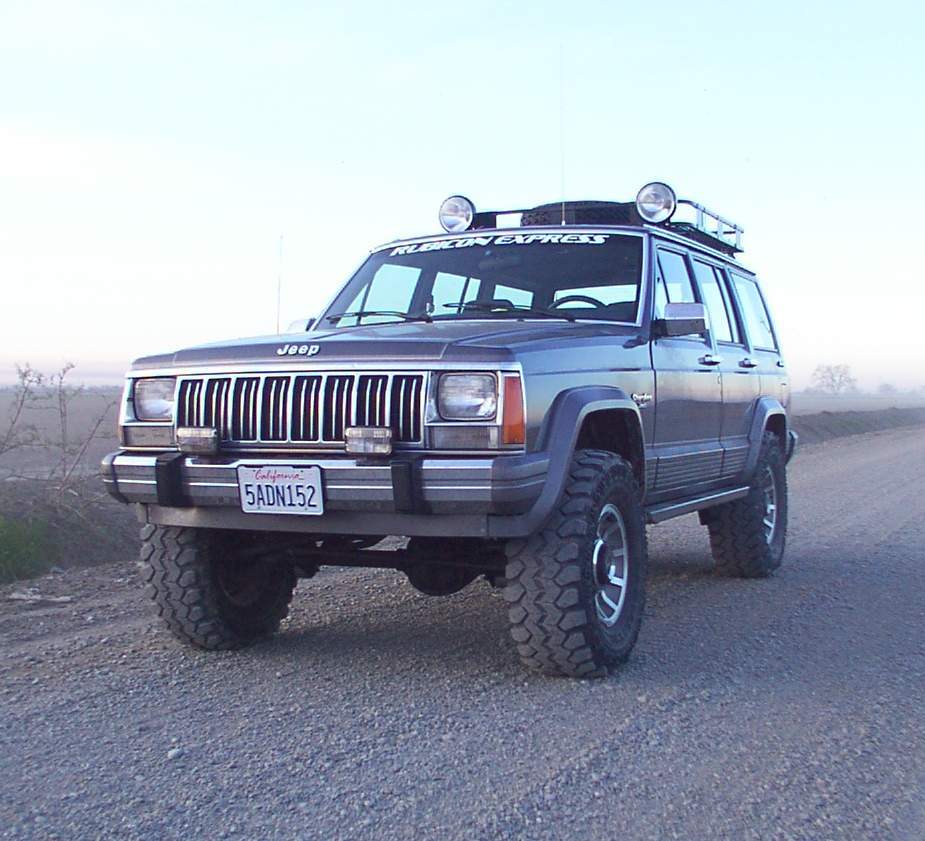 In 1984, American Motors Corporation (AMC) introduced a new, downsized line of Wagoneer and Cherokee that bore no relation to previous full-size (109in. wheelbase) Jeeps. These new Cherokees had unit-body construction, weighed almost 1000 lbs. less, were 21in. shorter, 6in. narrower and four inches lower in height than their predecessor. Redesigned at the last minute into a four-door model, the XJ Cherokee proved wildly popular in the United States and sales soon exceeded 100,000 units per year, temporarily reviving AMC fortunes. Chrysler Corporation bought AMC Corporation in 1987 mainly to receive the revenue from Cherokee sales, and these sales are widely acknowledged to have saved Chrysler Corporation from financial ruin during the dark days prior to the introduction of new models.
The Cherokee utilizes live axles (Dana 30 front, Dana 35 or various rear) together with coil springs and Panhard bar in front with four locating arms with a front anti-swaybar, rear suspension is by two longitudinal leaf springs. This suspension proved remarkably flexible and durable in factory form for off-road use. The vehicle's 100.4in. wheelbase and relatively narrow dimensions is ideal for many persons, providing the agility of smaller Jeeps with the cargo and people-carrying capacity for extended off-road excursions.
Standard engine in the U.S. has been a 2.5L four cylinder engine, originally with carburetor and four-speed transmission, later with five speed overdrive transmission and throttle body fuel injection (also available with automatic transmission). Optional engines were the 2.1L Renault turbo-diesel four-cylinder, available 1985-1987, and a General Motors 2.8L V6, available 1984-86. In 1987 a 4.0L Power Tech six-cylinder inline OHV engine became a factory option and proved very popular in the United States, lowering 0-60 mph times to 10.0 seconds and providing much-needed torque off-road. In that same year the Aisin Warner 30-40 LE four-speed automatic (AW4) with overdrive and lock-up torque converter also could be ordered with the six-cylinder engine.
The inline four- and six-cylinder engines have established themselves as extremely reliable performers in the U.S., some going well over 200,000 miles before rebuild. In export models, the Cherokee has been offered in recent years with an Italian-made [VM] 2.5L turbo-diesel.
In addition to comfort options, the Jeep Off-Road or Up-Country package provides the Cherokee with additional capabilities. This package consists of skid plates for front suspension, transfer case, and fuel tank, revised front and rear springs with
1-inch higher ride height, two front and one left rear tow hooks, 15x7in. tires with P225/75R15 radial tires, and gas-pressurized shock absorbers. In recent years a 16x7in. wheel option with matching tires has become available. In 1989 the 20.2 U.S. gallon (76.5 Liter) fuel tank was made standard throughout the U.S. Cherokee line, greatly improving range.
Cherokees have been fitted with a wide variety of rear differentials. The Dana 35 (7.5-inch) and 35c, with or without c-clip retained axles, is most often found, with later Cherokees often being built with the Chrysler Corporate 8.25-inch rear differential, also with c-clip axles. By far the most sought after however is the Dana 44 8.5-inch semi floating (non-c-clip) rear differential with its heavy-duty iron housing, found only on some 1987-88 U.S. market Cherokees with towing package and (believed) some export models intended for rough-duty usage. The C-clip axles, while sufficient for moderate four-wheel use, can break under heavy load, resulting in separation of the wheel and axle from the vehicle.
A vast array of off-road modifications are currently available for the Cherokee. The most popular modification is a suspension lift and larger tires. While the Cherokee can be successfully lifted up to 5-6in. with up to 35in. tall tires, most owners opt for a moderate 3-4in. lift with (31x10.50R15 or 265/75R15 tires. Longer rear spring shackles avoid frame rail contact and increase articulation. Disconnecting the front anti-swaybar will provide an immediate increase in travel of 3-4 inches, and most
off-road ready Cherokees sport quick disconnects for the front anti-swaybar. Other modifications include the Dana 44 or other heavy-duty rear axle, often sporting a locking differential such as the Detroit Locker or ARB, heavy-duty roof cargo racks, external body and undercarriage armor, heavier bumpers, air-tanks, underhood welders, dual batteries, etc.
While the Cherokee has been a remarkably durable vehicle on and off-road, there do exist opportunities for improvement. The original radiator (closed system) fitted to earlier models proved inadequate for hot climates and a large two or three-core replacement offers better cooling, especially when going off-road. The front wheel bearings are a narrow-spaced design shared with the Jeep Wrangler and are of unit design with the hub, making lubrication difficult. Because of the narrow spacing of the front wheel bearings and the resultant increased leverage, the use of deep-dish or negative-offset wheels with the Cherokee, particularly with larger tires and wider wheels, is not recommended. The alternator-to-relay and relay-to-battery wiring is very small, typically 8- or 10-gauge wire, and serves as a electrical bottleneck. The grounding path for the Cherokee is also poor, with no direct battery to chassis ground (the ground is routed to the engine and thence by tiny grounding strap to the chassis). Many owners have upgraded this alternator and relay wire to 4-gauge cable, and the battery cables to 1/0 or 2/0 gauge welding cable for faster starts, cooler electrical connections, and improved voltage at the relay. The rear slip-yoke driveshaft design of the Cherokee occasionally gives vibration troubles, especially after a suspension lift, and numerous U.S. manufacturers now offer a redesigned transfer case output design to eliminate these problems.